PANTONE COLOR OF THE YEAR 2019

PANTONE COLOR OF THE YEAR 2019
PANTONE 16-1546 Living Coral
AN ANIMATING AND LIFE-AFFIRMING CORAL HUE WITH A GOLDEN UNDERTONE THAT ENERGIZES AND ENLIVENS WITH A SOFTER EDGE.
Vibrant, yet mellow PANTONE 16-1546 Living Coral embraces us with warmth and nourishment to provide comfort and buoyancy in our continually shifting environment.
In reaction to the onslaught of digital technology and social media increasingly embedding into daily life, we are seeking authentic and immersive experiences that enable connection and intimacy. Sociable and spirited, the engaging nature of PANTONE 16-1546 Living Coral welcomes and encourages lighthearted activity. Symbolizing our innate need for optimism and joyful pursuits, PANTONE 16-1546 Living Coral embodies our desire for playful expression.
Representing the fusion of modern life, PANTONE Living Coral is a nurturing color that appears in our natural surroundings and at the same time, displays a lively presence within social media.
PANTONE 16-1546 Living Coral emits the desired, familiar, and energizing aspects of color found in nature. In its glorious, yet unfortunately more elusive, display beneath the sea, this vivifying and effervescent color mesmerizes the eye and mind. Lying at the center of our naturally vivid and chromatic ecosystem, PANTONE Living Coral is evocative of how coral reefs provide shelter to a diverse kaleidoscope of color.
Tools For Designers
More than 10 million designers and producers around the world rely on Pantone Products and Services to help define, communicate, and control color from inspiration to realization – leveraging advanced X-Rite technology to achieve color consistency across various materials and finishes for graphics, fashion, and product design. Pantone Standards feature digital and physical color specification and workflow tools.
Read on to learn more about applying the Color of the Year 2019 across various industries, determine color values across our color systems, explore palettes and color harmonies, and more.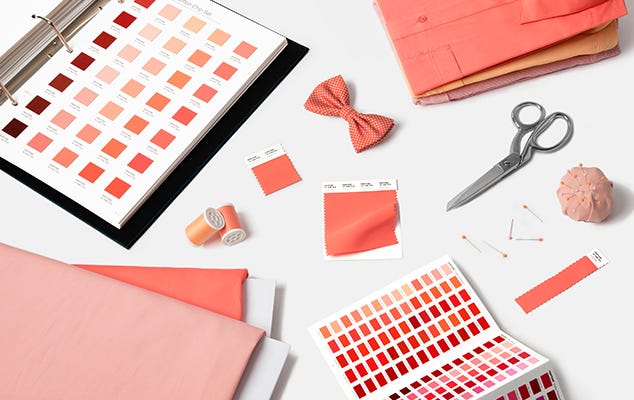 LIVING CORAL IN FASHION AND ACCESSORIES
Living Coral inspires experimentation and playful expression in both men's and women's street and runway styles. The warm shade suggests comfort and positivity in simple color stories, but becomes more explorative and effervescent in patterns, textures, and even monochrome looks. An appealing accent shade, PANTONE Living Coral provides a striking contrast across the color spectrum.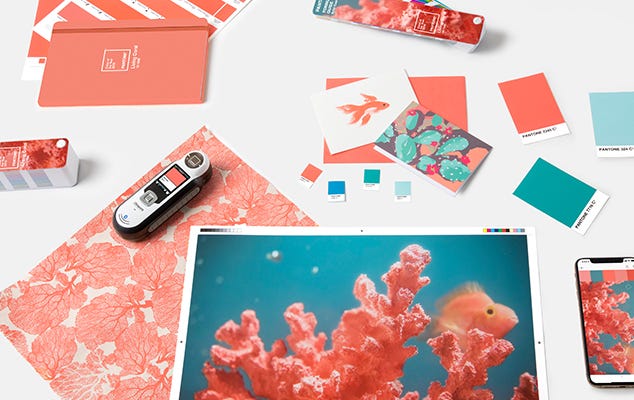 LIVING CORAL IN GRAPHIC AND PACKAGING DESIGN
Living Coral is naturally ideal for packaging applications. Warm and welcoming, this life-affirming shade invites us to reach out and touch.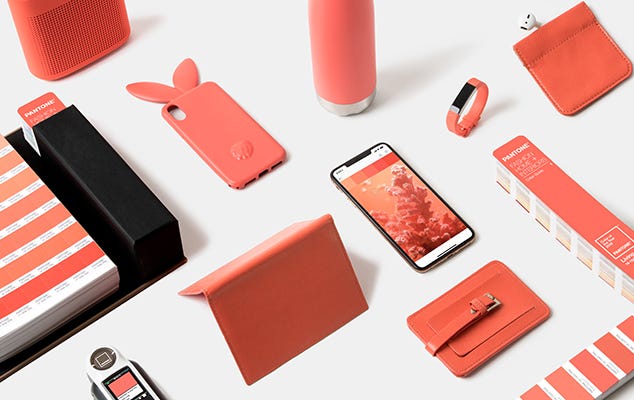 LIVING CORAL IN PRODUCT DESIGN
Living Coral is naturally suited for product across all ages and genders. Materials with texture and convivial colors such as PANTONE 16-1546 Living Coral appeal to our desire for products exhibiting humanizing and heartening characteristics.
LIVING CORAL IN BEAUTY
As a life-affirming hue that complements all skin tones, PANTONE Living Coral brings natural color to beauty in blush, eye, and lip. Uninhibited, playful looks are also emboldened by Living Coral, which, as the center of a kaleidoscope of color, encourages experimentation in beauty with palettes, textures, shimmers, and sheens.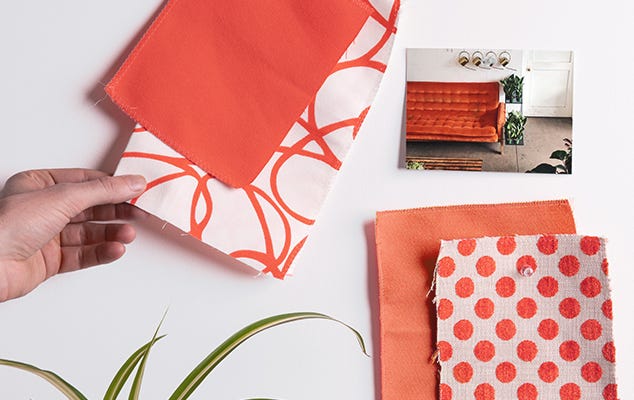 LIVING CORAL IN INTERIOR DÉCOR AND FURNISHINGS
When used as a bold statement in settings and décor, Living Coral fosters immersive experiences such as pop-up installations and interactive spaces, tied to a playful spirit. As a color linked to tactility and human connection, PANTONE Living Coral in shag rugs, cozy blankets, and lush upholsteries create a warm, comforting, and nurturing feeling in the home. With its ebullient nature, PANTONE Living Coral adds a dramatic pop of color to any room setting whether in decorative accessories, tabletop, or on the wall.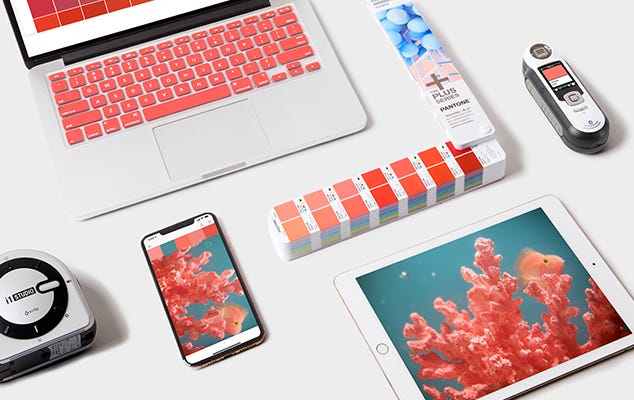 LIVING CORAL IN SOCIAL MEDIA
An organic shade, Living Coral is striking in digital mediums, evoking the same inspirational feeling ignited by our natural surroundings. Living Coral's vibrancy and buoyancy captivates our attention in social media and digital design.
How To Use The Pantone Color Of The Year 2019
We have created five different color palettes that feature PANTONE 16-1546 Living Coral to help you bring this year's special shade into your designs and illustrate the dynamic nature of this color within various combinations.
FOCAL POINT
Immediately drawing our attention like a beacon of light, PANTONE Living Coral warmly engages, vivifying the palette as it becomes the focal point in this understated and upscale, composed and cool color grouping.
COLOR HARMONIES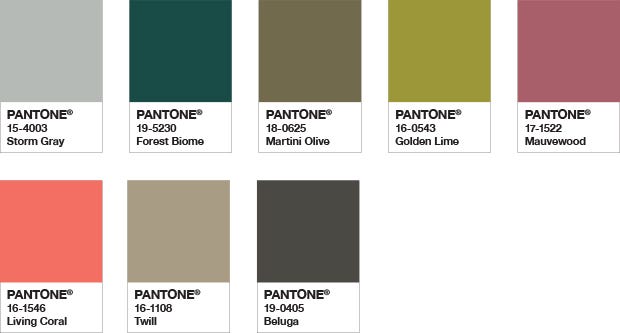 SHIMMERING SUNSET
Bold and brilliant, a palette evocative of the dazzling portrait of color splashed across the sky as the sun rises and sets, one where PANTONE Living Coral energizes and enlivens, adding to our feelings of pleasurable warmth.
COLOR HARMONIES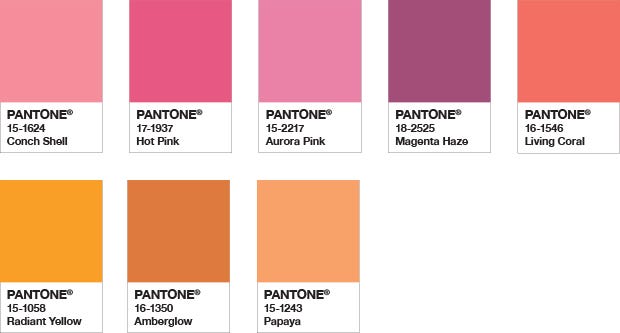 SYMPATICO
Paying homage to skin tones around the world and the shades we use to enhance our complexions; Sympatico is comprised of a beautiful array of colors that humanize; fusing together a panoply of international skin tones with those soft and warm colors we layer on to create that healthy glow.
COLOR HARMONIES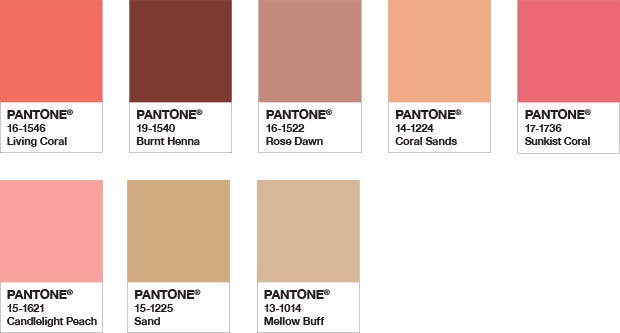 TRIPPY
A palette of hallucinogenic shades with dizzying effects, the wildly hedonistic color range we see in Trippy is pure and unadulterated; an exuberant range of joyful color that speaks to irrepressible fun and spontaneity that includes the life affirming PANTONE Living Coral.
COLOR HARMONIES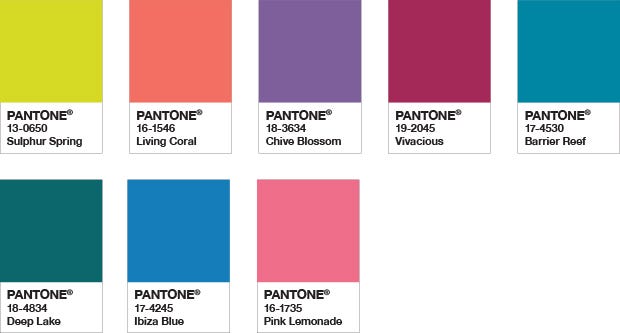 UNDER THE SEA
Awash in color suggestive of the watery environment that lies beneath a tropical island paradise, Under The Sea places PANTONE Living Coral at the center of our naturally vivid and chromatic ecosystem, evocative of how coral reefs embrace with their warmth and nourishment and provide shelter to a diverse kaleidoscope of colorful sea life.
COLOR HARMONIES